Welcome to the latest update from the Mother of the Bride!
As I sit here writing this update, the song playing on my random rock selection is The Final Countdown – I kid you not!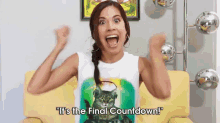 I was searching for how many days until the big day and that song comes on – how random!!!  (Followed closely by ACDC's Thunderstruck…I could sit here all day and keep you informed of the song selections…but I won't do that!)
Wedding plans
As you are probably aware by now, my next MOB gig  is happening with baby daughter's wedding planned for October 2017 – in Fiji!   It is a very small, intimate affair, with only parents, siblings, and a few close friends.  I've been looking at the resort's website, pictures and reading reviews and am very pleased with our selections.  We have put a lot of faith in our Wedding Planner at the Outrigger Resort and hope that it all pans out OK. It's a big deal to go somewhere you've never been before, to marry off your daughter!
In my previous posts for this my second Wedding as MOB – MOB #3 MOB Fun,  MOB #2 update and  The MOB returns – I noted that we seem to have everything under control and are well on track with the wedding plans. It does make it easier when most of it is organised by the resort, leaving only minimal decisions to be made…and the money to be paid!
The final checklist has been sent to the wedding planner and all decisions have been made on cake, flowers, food, location of the ceremony and bookings have been made for hair, makeup and photographer.  Flights and accommodation are sorted too.  I have booked a little Hen's party at the resort's spa, just for the ladies, on the morning before the wedding.
Overseas Weddings
Getting married in a different country requires some paperwork, as I'm sure you can imagine. One of the latest issues has been the Single Status certificate, a relatively new requirement which proves neither B2B or G2B has been married before.  It is a typical administrative form that is confusing in its wordiness and intent.  But B2B has persevered and seems to have it under control.  The only problem is it has to be submitted 45 days before the wedding, so if you are organised and get the form done a bit earlier, (as government departments are often slow at processing forms), then you may find it will be invalid because it's not within the 45 days!
Feeling emotional
I had a little teary moment when I read the vows and the ceremony format – much to my daughter's amusement, s as they couldn't stop laughing when they read them through. B2B has her dress and it is being altered as we speak, and thankfully she is still very much in love with it.  Apparently it can be quite normal for brides to go off their dress and even get a bit flat about the whole wedding.
Music choices have been discussed and the song choice bandied about for the signing is Signed, Sealed, Delivered but I'm sure they're just winding me up….
Final MOB thoughts
I'm very fortunate to have a great relationship with my daughter and she knows she can ring me at anytime for a chat about things and to ask my advice.  She also values her sisters' advice and her Bridesmaid is a great help in keeping her on the right track. Thank goodness for the MOG too, who lives close to the B2B and is very much involved in the whole process. I'm sure the fiance is doing his bit too, in his own way, and we definitely can't leave him out of the picture!
I've mentioned before that I have my outfit organised but I also have a 'spare' dress and I have recently ordered not one, but two new swimsuits!! Well, we are going to Fiji and will be spending time around the pool, so I need to be prepared!
The party for family and friends to be held three weeks after the wedding is under  control and I have booked our flights there as well.   I think we're nearly done 🙂
Scary Funfact: Did you know the average wedding in Australia costs $30985 which doesn't even include the cost of the honeymoon!  The average honeymoon costs another $7700!  Some weddings cost as much as $80000 and some come in at $2000.  Most couples budget for $20000 expecting it to end up costing approx $5000 more but the actual cost is usually way more than expected.
Whoa, that's a whole lot of money!  I think sometimes too much emphasis is placed on the wedding . I said something similar to this in an earlier post with Wedding No.1 – the wedding is just one day of your life but your marriage has to last forever!
I saw this lovely quote recently and it sums it up: I want a marriage more beautiful than my wedding. 
Less than 3 months to go now, we're well under 100 days!
If you have any suggestions please let me know, especially if you've done the whole 'destination' style wedding before.  Have I missed anything out? It's a completely new experience for us 🙂  Any wedding suggestions or thoughts are much appreciated , feel free to leave me a comment!
Deb (getting just a bit excited)
Note 1: For those of you not in the know here are the meanings of various acronyms.
MOB = Mother of the Bride
FOB = Father of the Bride
MOG = Mother of the Groom
FOG = Father of the Groom
B2B -Bride to be
G2B – Groom to be
Note 2: B2B wrote this beautiful guest post for me a few years ago, it's very special!
Note 3: I was thrilled to be featured over on Bridesmaids Confession recently with this post 'What It's Really Like to be the Mother of the Bride?
You can also follow Deb's World here if you feel so inclined!
Twitter, Instagram, Pinterest, StumbleUpon, G+, Facebook and Flipboard